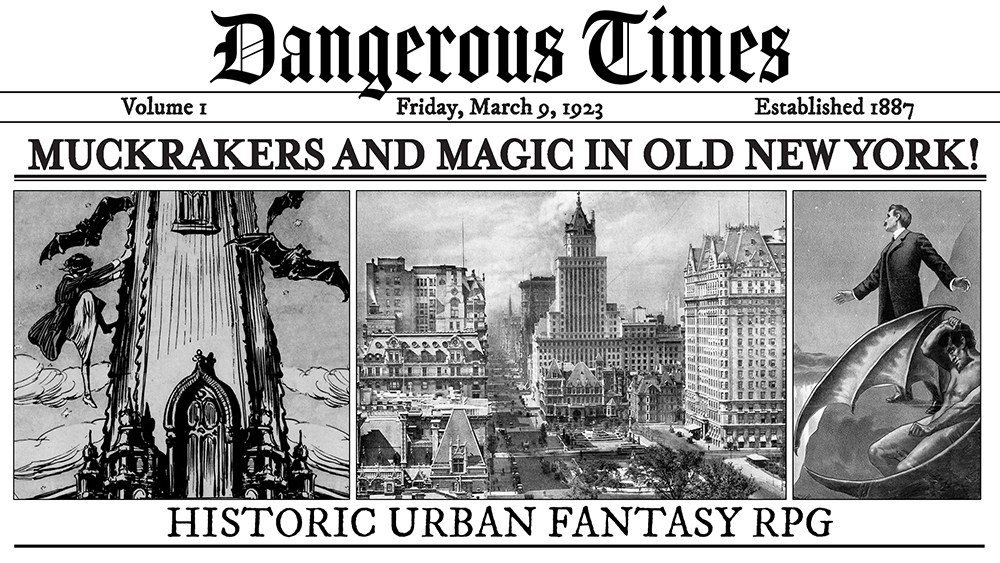 Dangerous Times
A complete tabletop RPG in zine form— Play as intrepid reporters in a 1920s New York filled with speakeasies, crime, and the occult!
Rules reference online at https://dangerousrpg.com/rules/

Everything you need to get started is included in the Zine. The game comes fully prepared with rumors and events, characters and locations that can be woven into play. Additional preparation is not required, though an interest in history can enrich the experience.
While a single session stands on its own, multiple sessions are meant to be strung together into a short campaign, during which recurring motifs and the progress of time tell a broader story about the city, characters, and publication.
This is for a PDF-only, digital version of the zine. 60 pages long!
You can learn more about the game here or check out the successful Kickstarter campaign here.
Purchase
In order to download this rpg zine you must purchase it at or above the minimum price of $9 USD. You will get access to the following files:
Dangerous Times.zip
143 MB
Community Copies
Support this rpg zine at or above a special price point to receive something exclusive.
Community Copies
If you can't afford to buy the game, for any reason, I want you to have it for free. Take a community copy, no questions asked.

Comments
Log in with itch.io to leave a comment.
Do you happen to have print versions of this game? I'd love to buy one
I'm glad you like the game! I do still have a few of the deluxe copies from the kickstarter lying around, though I've not set up a storefront for them.

I'd be happy to sell you one if you're interested, DM me on twitter @JeckDev or email me ( baconmichael87 at the mail website google runs, I'm hoping phrasing it that way prevents bots from spamming me ) and we can exchange address/payment details.